Robowar-hit teen's kin want IIT-Bombay to foot med bill
Techfest organized an event, Robowars in which a student got injured.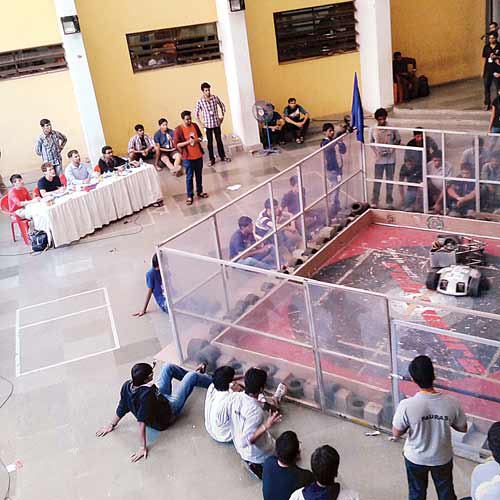 The battle between two robots at the IIT Bombay's annual Techfest on Sunday afternoon left a 19-year-old Saquib Shaikh of Saboo Siddik engineering college with multiple fractures on his face, and the parents have demanded the institution to foot the bill.
A CT scan on Sunday revealed multiple fractures. Shaikh, now needs a plastic surgery which is slated for Thursday. One of the robots broke down midway, sending a part flying into the air and hitting the operator.
His father, Ahmed Ali Bahadur Shaikh said,"I want the best treatment for my son and I would like to shift him to a private hospital. I spoke to the dean of student affairs at IIT-B, Urjit Yajnik to ensure the best medical treatment for my son but he refused."
Yajnik said, "Parents should first take care of the child instead of seeking reimbursement from IIT. I don't have the authority to take such a decision. The case would be put forward to the medical board of IIT and based on board's assessment a decision would be taken."
Yadavrao Jadhav, senior police inspector, of the Powai police station said, "We have registered a case of negligence under section 338 of the IPC against the organisers and caretakers of robowar. We have recorded student's statements and also the IIT staff. We will soon arrest the person concerned.
The lack of safety gear and the open arena erected on a weak wooden base are being blamed for the incident.
Document Actions