'Smart' robots steal the thunder at IIT-B competition
This makes robotics accessible to students across a variety of disciplines and from remote regions.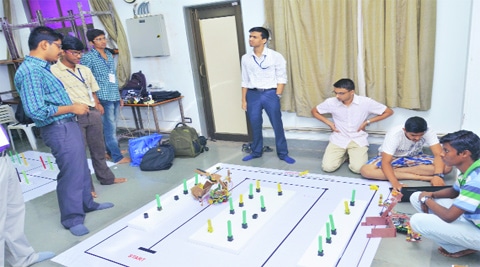 Robots that can sow seeds in a farm, robots that can remove weeds, robots used for fertilizing crops and robots that can even pluck fruits from trees — these were some of the final entries presented at the e-Yantra Robotics Competition (e-YRC) this year at Indian Institute of Technology Bombay (IIT-B) on March 28.
This year e-YRC used robotics to develop indigenous solutions in the field of 'Urban Agriculture'. The objective of the competition this year was to bring awareness to problems in the agriculture domain by assigning themes that involve processes in this domain.
The ministry of human resource development (MHRD) sponsors e-YRC under the National Mission for ICT in Education (NMEICT) programme. The initiative aims at providing hands-on learning-infrastructure to engineering students who have limited access to labs and mentors.
Through e-YRC lab, the overall mission is to grow a rich eco-system of ideas and applications through intelligent funnelling of robotics in the day-to-day life developed by students working on such projects at engineering colleges in the area of embedded systems. More than 6,000 students had registered for e-YRC 2013 from across the country, of which only 80 members (20 teams) were shortlisted for the competition. ...more
Document Actions